Happy Labor Day Weekend! I love nothing more than a shorter week at work, and an extra day with the family. We were busy this week with my son starting first grade, and the hubby in his second week at a new job! It was a little crazy getting used to all the new schedules, but we made it, and are enjoying both some fun and taking care of business this weekend.
The Corrosive Challenge has a fun new challenge for you all, "Let's Hear It For The Boys" - create a masculine project, something for a guy of any age. Sometimes the men and boys don't get enough attention, so this one's for the fellas!
A new challenge means a new sponsor, and The Corrosive Challenge has a wonderful company lined up! Please welcome back Meljen's Designs!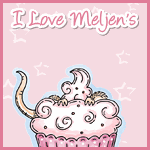 Here is a little about them in their own words:
Meljen's Designs is a lovely stamp company owned and illustrated by
Melissa Jenkins. She illustrates whimsical rubber and digital images inspired by her kids and family. Meljen's Designs has a new challenge every Thursday, and a Guest Designer each month at the Meljen's Designs
Blog
. Please visit the adorable line of Meljen's Designs stamps at our store
HERE
to browse all of Melissa's lovely designs! You can also see Melissa's exclusive rubber stamps at her corner of
Whimsy Stamps
, too! Don't forget to join Meljen's Designs on Facebook
HERE
to take advantage of special sales and promotions that are just for her facebook fans!
They have generously offered a prize of 4 (non colored) images for our winner!
We got to pick from several images, and I got to work with Sports Fan Teddy isn't he the cutest?
Teddy is colored with Copics, and popped up with foam dots. I kept this one pretty simple, cuz lots of flowers and embellies aren't manly, right? I think I will be giving this one to my Grampy for his birthday, and he is an avid golfer and fan of the sport.
The golf ball and green are buttons I have had forever, the ticket is Tim Holtz, and the papers and ribbon are from my stash as well. Sometimes it's nice to do a relatively clean and simple card for a change!
That's about it. I can't wait to check out what awesome projects everyone has made for the men and boys in their life. Be sure to join us at

The Corrosive Challenge for a chance to win some of these adorable digis for yourself.
Thanks for stopping by!
Jasmine